Things To Do
Are you making a weekend of it in Baltimore or just trying to kill some time in the harbor before the wedding? Either way, here are Vivi and Daves recommendations for great things to do in and around Baltimore.
Eat and Drink
Brewers Art- This brewery in Mt. Vernon is a favorite. We love the Ozzy, though a certain Mr. Osbourne recently forced the brewery to change the name of this libation which is now known as the Beazly. If you ask for an Ozzy though, they will know what you want.
G&M Restaurant- This restaurant is a little outside the city near the airport and Dave's old work. They serve the best crabcake Dave or Vivi have ever tried; definitely worth the excursion.
Cat's Eye Pub- Where all the magic started; this little gem of a bar has live blues going 365 days a year.
Iggie's Pizza- This is Vivi's favorite pizza, done in the traditional Italian style with some foodie twists. It is BYOB, and just so happens that there is a pretty awesome local meadery right across the street.
Woodberry Kitchen- For a splurge, there's no better dining experience than Woodberry Kitchen. Everything is prepared farm-fresh with local ingredients, with gustatorial twists that will blow your tastebuds away.
Activities
Baltimore Museum of Art- A great museum with wonderful traveling exhibits, the BMA's permanent Cone Collection features amazing works from Matisse, Picasso and Degas. After a morning excursion, grab brunch at the museum's gardenside restaurant and take a stroll through Vivi's alma mater right down the street.
Walter's Art Museum- A free museum featuring a variety of styles, from Medieval Europe to Raphael. The museum is located in the heart of the Mt. Vernon neighborhood, which makes for a scenic stroll through one of Baltimore's most historic districts.
National Aquarium- The national aquarium is pricy but it really is a pretty special experience (Dave's mother is a big fan of the puffin exhibit). The aquarium is right in the heart of the inner harbor, surrounded by a number of shops, restaurants, and street performers.
Poe's Grave- Baltimore is a city with a gothic bent; the football team are called the Ravens after all. Poe's grave, and Westminster hall itself are a creepy and worthwhile historical touchstone.
Meriweather Post Pavilion- The legendary music venue between Baltimore and DC. As of the time of publication, no shows are currently scheduled in June/July. The Ottobar is another (though much smaller but also more conveniently located) favorite venue to check for shows.
Shopping
Sound Garden Records- Probably the best record store in Baltimore (very large selection, though there are better places for crate digging if that is your thing); it sits in the neighborhood of Fells Point which is home to many other cute shops and restaurants on the waterfront.
Red Emma's- For a strong cup of coffee and a healthy dose of radical thought, Red Emma's does not disappoint.
Hampden- Baltimore's Hampden neighborhood offers a wide variety of dining and shopping experiences. You'll come away with great new threads at cheap prices, rare record finds and a full, content tummy. Choice picks include Golden West brunch, tacos from Holy Frijoles and cheese plates at 13.5% Wine Bar.
If nothing above floats your boat- no worries, there is plenty to do! Other options include Camden Yards, the Museum of Industry, the Science Museum, Tir Na Nog (an Irish Pub overlooking the harbor where Vivi used to work), Mick O'Sheas (another Irish Pub where Vivi used to work), or any of the other great suggestions made by the trusty internet. See below for an embedded map of our reccomendations, and a playlist of our favorite Baltimore music.
B'more Tunes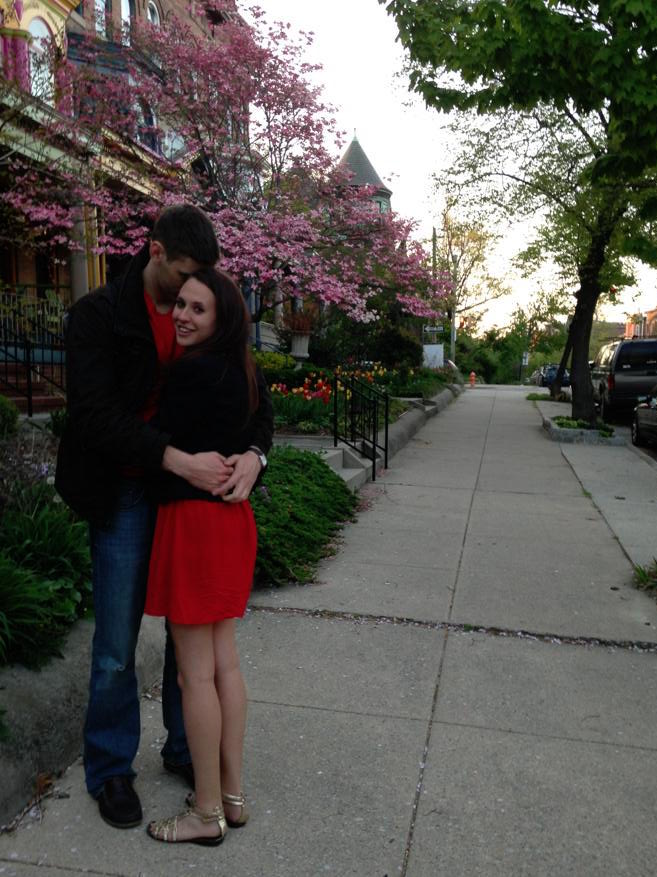 Vivi and Dave by the "Painted Ladies" in Charles Village, Baltimore